For my first full-fledged

Design Project

at

NID

, I chose to work on the Indian Railway Announcement System and improving it's quality. I was always fascinated by the Railways and how they work, and had travelled by train my entire life thanks to my dad working there. And my interest in sound design and theory also seemed to be useful. I started enthusiastically to say the least.
To comply with the rules and regulations of the Indian Railways, I have omitted and obfuscated confidential information in this study.
This project led me back to After Effects and boy, was it fun. The UI that I had made was largely inspired from Duolingo because:
1. I did not have enough time.
2. I loved it for its UI and Onboarding.
3. I was on day 20 of my Spanish lessons then and was looking at it everyday
This project got me to read up a lot on

Onboarding

which I used in my Summer Internship at Wooplr later that year. One person who really taught me a lot about Onboarding in this exercise was

Samuel Hulick

of UserOnboard.com
Another topic that I covered was

Sound Theory

, because I had looked at changing the arrangement of the speakers inside the station to improve quality initially.
Now that that's done, let's get started!
The Railway announcement system has always been blamed for not getting the information across accurately. Even though the Railways announced completely automated recorded announcements from 2012, only the bigger stations have seen the change.  
The problem has always been looked at from the passenger's point of view. Looking at it from the announcer's side, I saw that there are areas where design intervention can help in delivering announcements of better quality.
Boiling it down led to the following

brief

: 

To assist Railway Announcers in their training phase and during live announcements in giving a better output

.
Railway announcers need to be fluent in

three languages

- English, Hindi and the regional language. They are taken in only if they satisfy this condition. They are then trained on the job by experienced employees.
Design a system that makes the new announcer or existing announcer learn and not depend on any other person.

Voice recognition

and processing play a vital role in this concept.
I designed this for a touchscreen device, but as you will see, it could be applicable in other devices as well.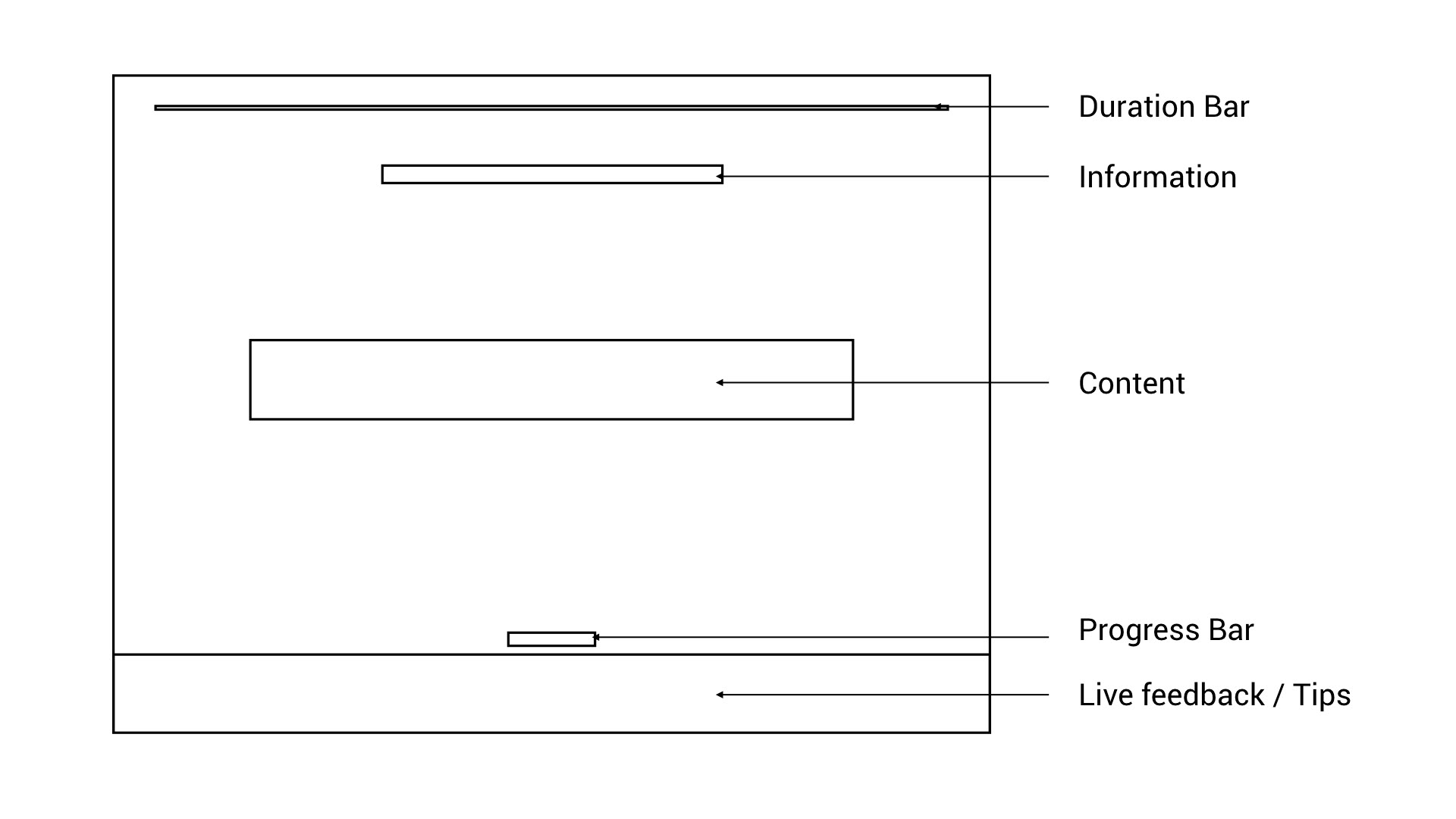 Scenario 1 - New announcer's Onboarding
The announcer goes through a list of words and phrases, probably names of stations that are

difficult to pronounce

. If he makes a

mistake

, he is notified of the same (

Red

coloured visual

feedback

) with the correct way to pronounce it.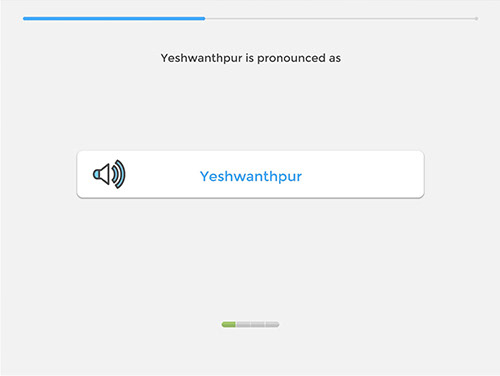 He is then given a choice (

I want to try again

) of trying again. The

'I'

gives him the sense of 

ownership

and

power

.
When he pronounces

correctly

, he is given a

Green

coloured visual

feedback

and moves on to the next one.
The

Progress bar

is already filled with one when he starts because a progress bar that is

empty

at the start has been found to be

not encouraging

, and one that is

filled

is found to

motivate

the user to work.
Scenario 2 - First time usage calibrates the system
Railway announcements are made of a

sentence and numbers

. The announcer speaks the sentence

"The new museum is worth visiting"

which has 10 syllables. He then speaks the

numbers

from

0 to 9

. If this is done properly, the system will calibrate itself with his voice.
Scenario 2.1 - Getting live feedback from the station and calibrating the system
The announcer has a test announcement done and is able to hear how it sounds in the station with all the

environmental noises

. He then takes it into account and

calibrates

the levels.
Scenario 3 - During a live announcement
Railway Announcements are usually repeated

3 times

. This is because passengers take time to notice an announcement and usually notice it only towards the end of the first time. There is the problem of announcements being clear the first time and not as clear the subsequent times. This feature of the system reduces errors from the announcer's side. Once he makes the

'perfect' anno

uncement, be it the first or second time, the system asks if he would like the same to be repeated to complete the 3-time loop, saving him energy and giving the passengers a clear announcement.